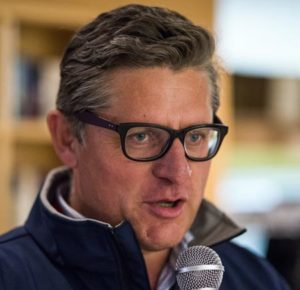 Dear offshore wind captains,
we live in stormy times. The results of the first offshore wind auction in Germany have shown the tremendous potential of exploiting wind energy at sea! Now bringing ships, crew and passengers on the right course presents itself to this challenge. The Offshore Wind Economic Forum presents itself to this challenge with high-profile speakers. Helgoland is the authentic place for exclusive summits. It has always attracted poets, thinkers, scientists and today's economic leaders on Germany's only high-seas, to gain clarity, to fill up new strength, to take the course and to reposition its own organization. I am looking forward to discussing with you on the sixth offshore wind summit at the end of August! Meeting and networking with the captains, pilots, and thinkers of the energy industry. Gain new thinking and water and storm resistant instruments for your course. Helgoland welcomes you – Welkoam Iip Lunn!
Fresh greetings,
Jörg Singer
mayor
Prof. Dr. Martin Skiba CEO of the AGOW e.V.
The prize will be awarded for Best Offshore Wind Farm in operation in 2016. For this purpose, operational data of the wind parks were evaluated and Key Performance Indicator was determined for the technical, business and HSE performance on the basis of which the winner was determined. All evaluations were carried out by WindPower & More Consulting GmbH on behalf of the Economic Offshore Offshore Wind Energy.
This year's prize is awarded by the Chairman of the Offshore Wind Association (AGOW e.V.), Prof. Dr. Martin Skiba, to the winner. The members of AGOW e.V. build and operate all offshore wind farms in the North Sea and Baltic Sea.
Wirtschaftsforum Offshore 2012 - 2016